Ingredients
| | | |
| --- | --- | --- |
| Batter: | | In Addition: |
| 240g Flour | 1 Teaspoon Salt | 1 Teaspoon Clarified Butter |
| 1 Sachet Baking Powder - 15g | 60ml Vegetable Oil | 4 Teaspoons Honey |
| 40g Sugar | 2 Eggs - Whisked | Redcurrants For Garnishing |
| | 400ml Milk | |
Methods
1. Sieve the flour into a bowl. Mix with the baking powder, sugar and salt. Add the oil, eggs and milk and beat everything into a smooth batter with a hand mixer.
2. Place in the refrigerator for 15-20 minutes.
3. Grease a frying pan with 1 teaspoon clarified butter and heat for approx. 2 minutes at setting 7. When the oil is hot enough, turn down to setting 3. Add approx. 85ml of the batter (1 large ladle) and allow to spread out evenly in the pan. Cook the pancake golden on each side for approx. 60-80 seconds. Do the same with the remaining 7 pancakes.
4. Serve the pancakes with honey and redcurrants.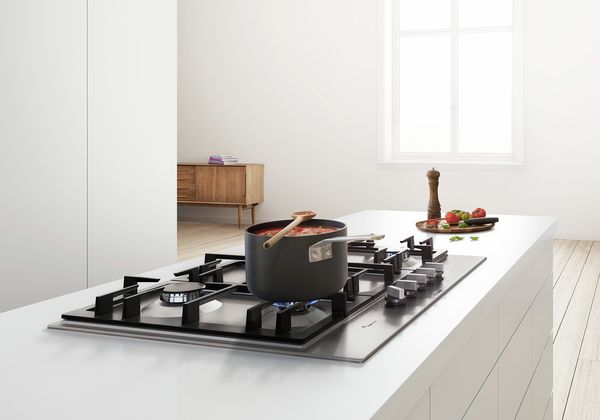 Gas Cooktops with FlameSelect Technology
The new Gas cooktops with FlameSelect and its innovative valve technology lets you precisely control the flame in 9 power levels. Now you can achieve perfectly consistent results each and every time.