Serie | 8
Stainless Steel
Fully integrated 60 cm Dishwasher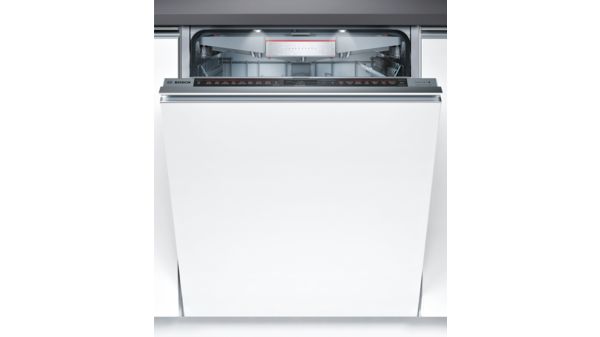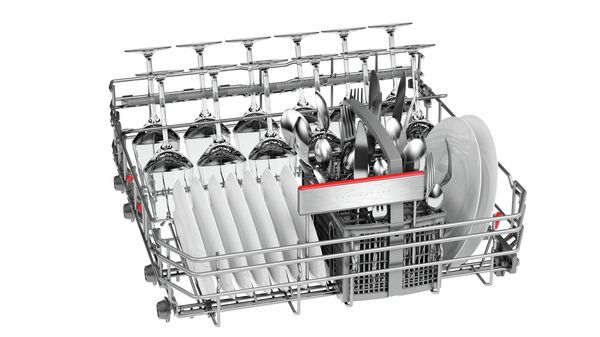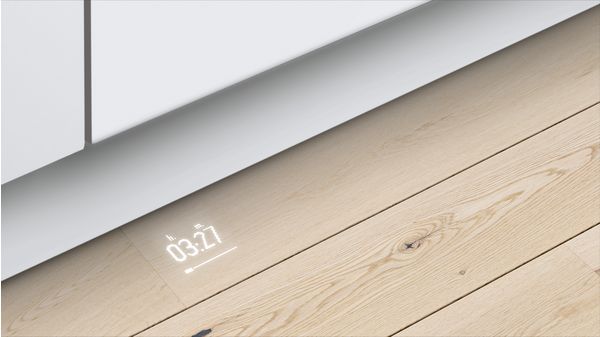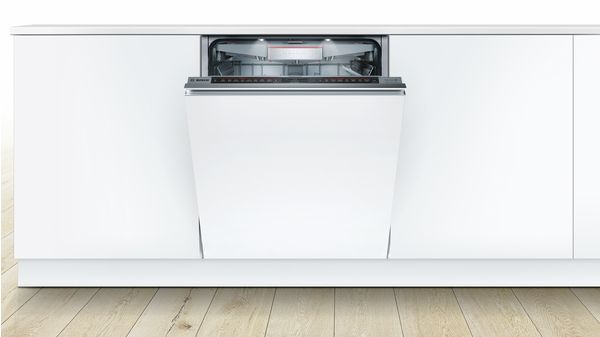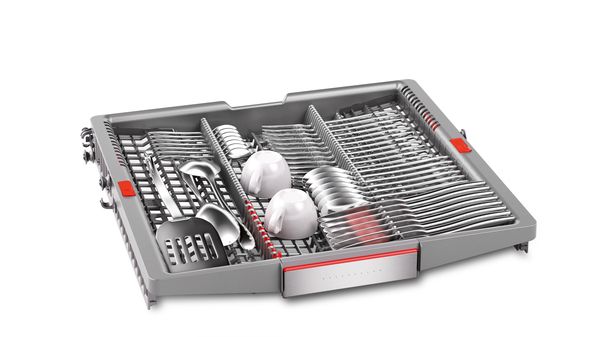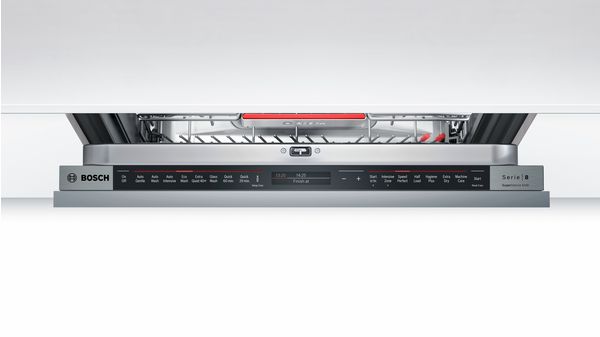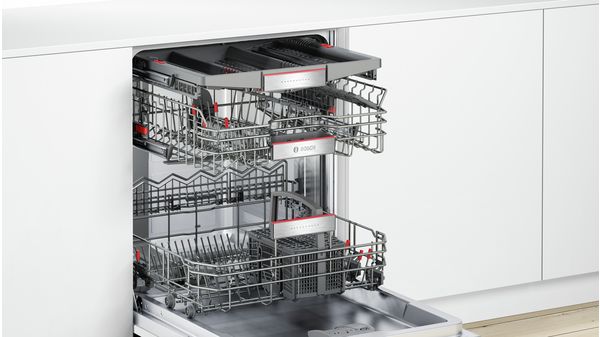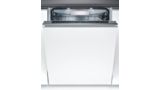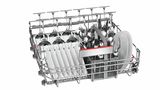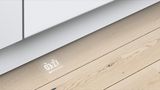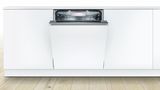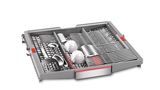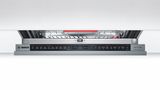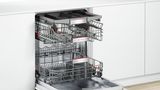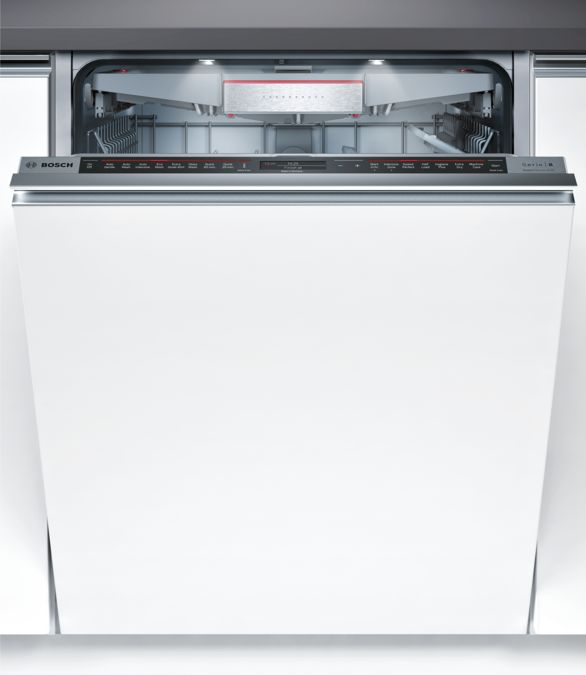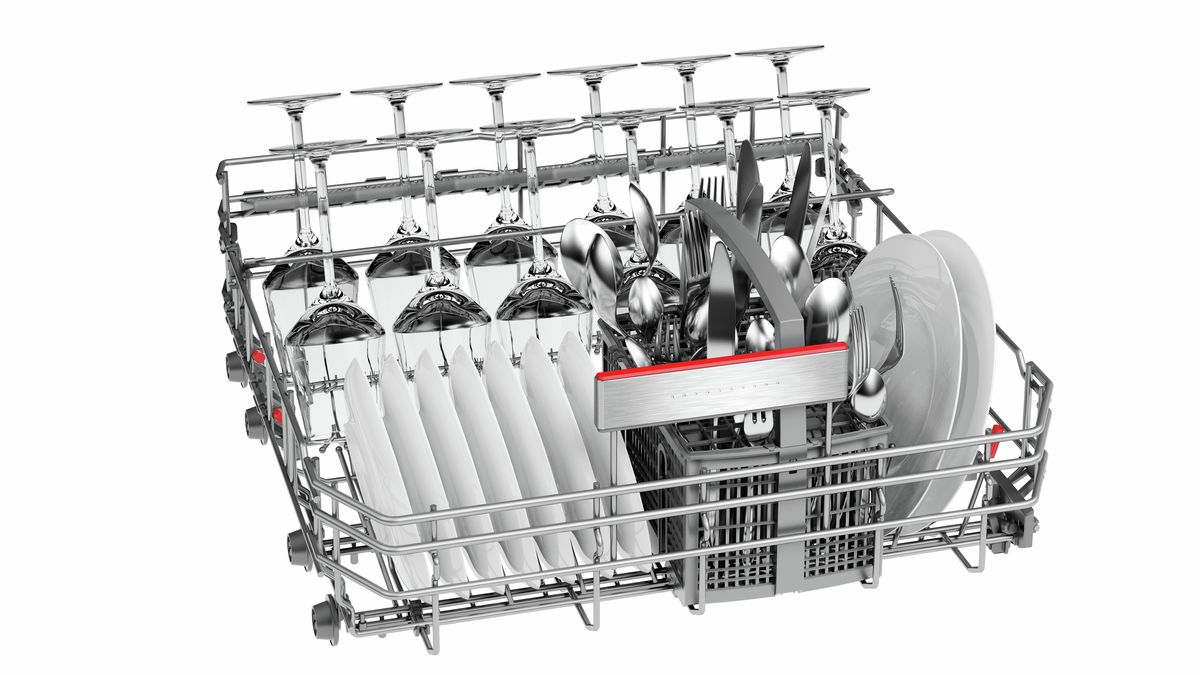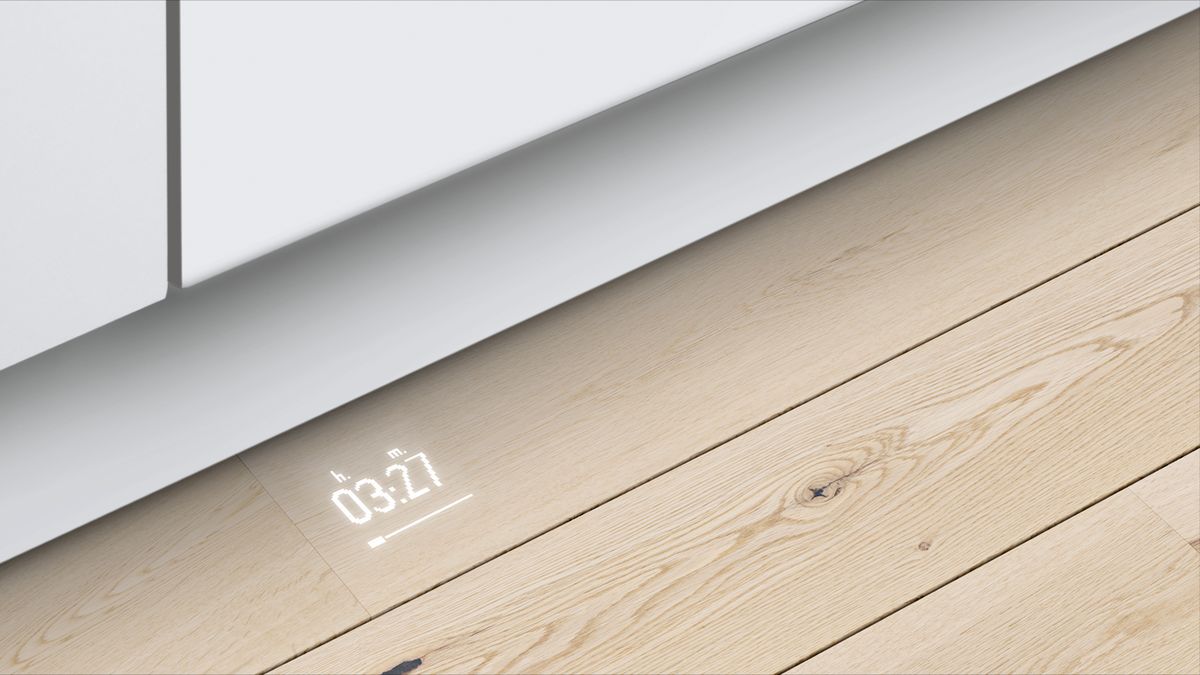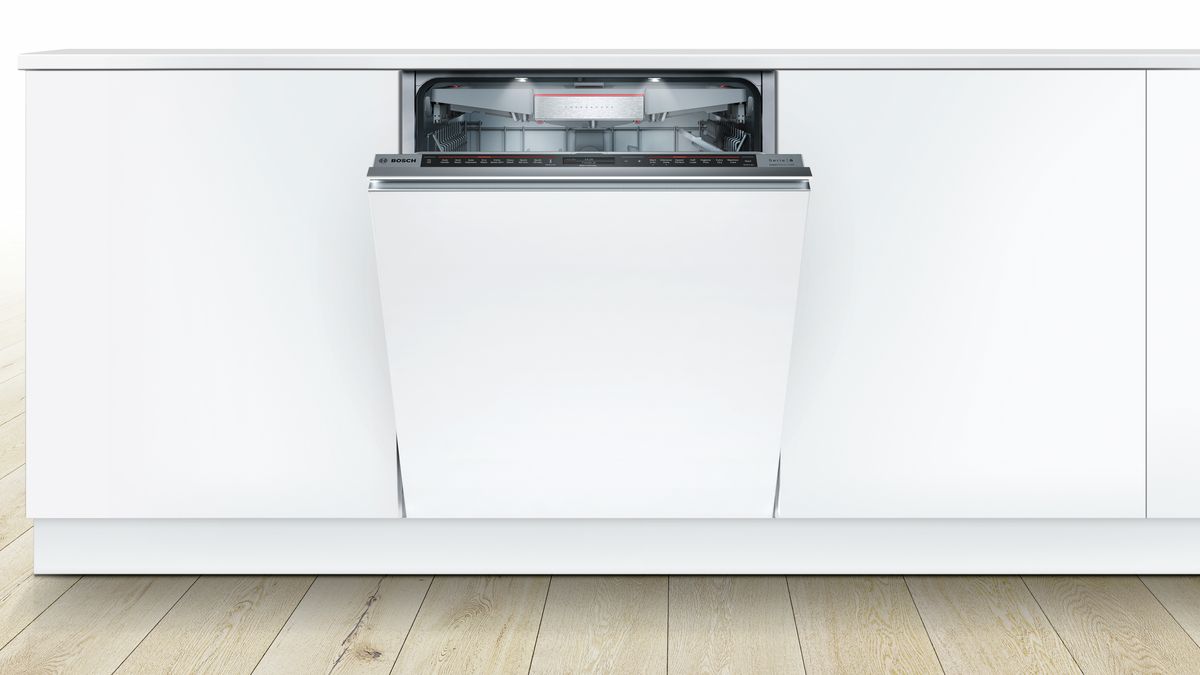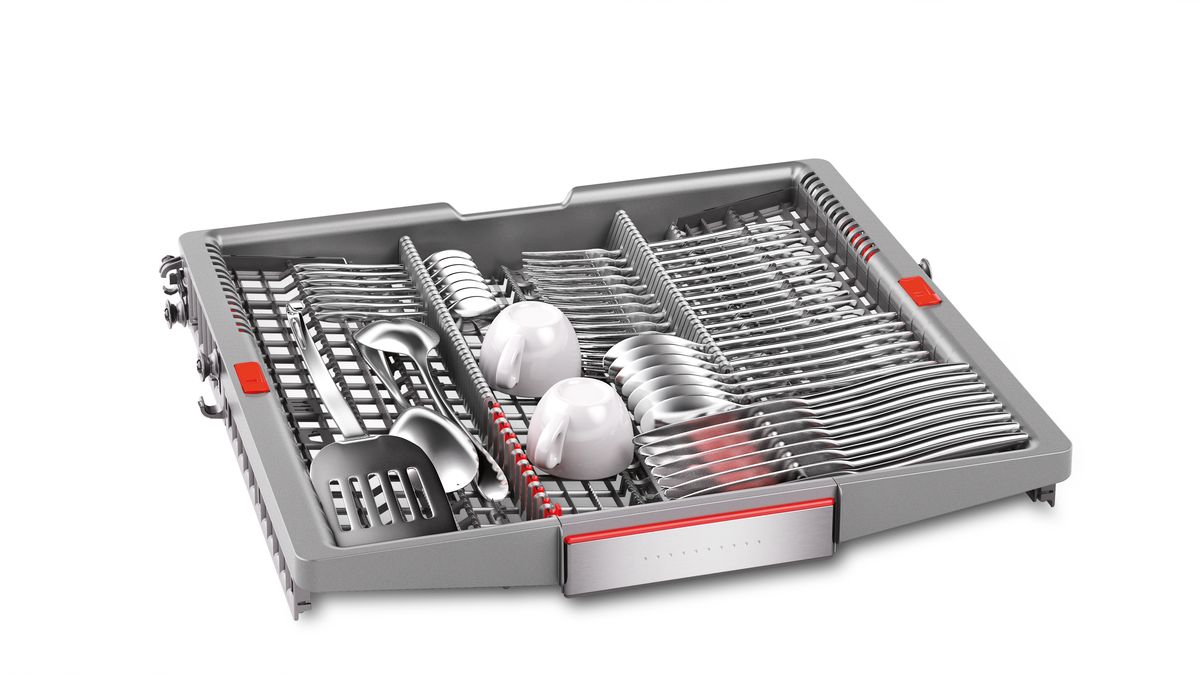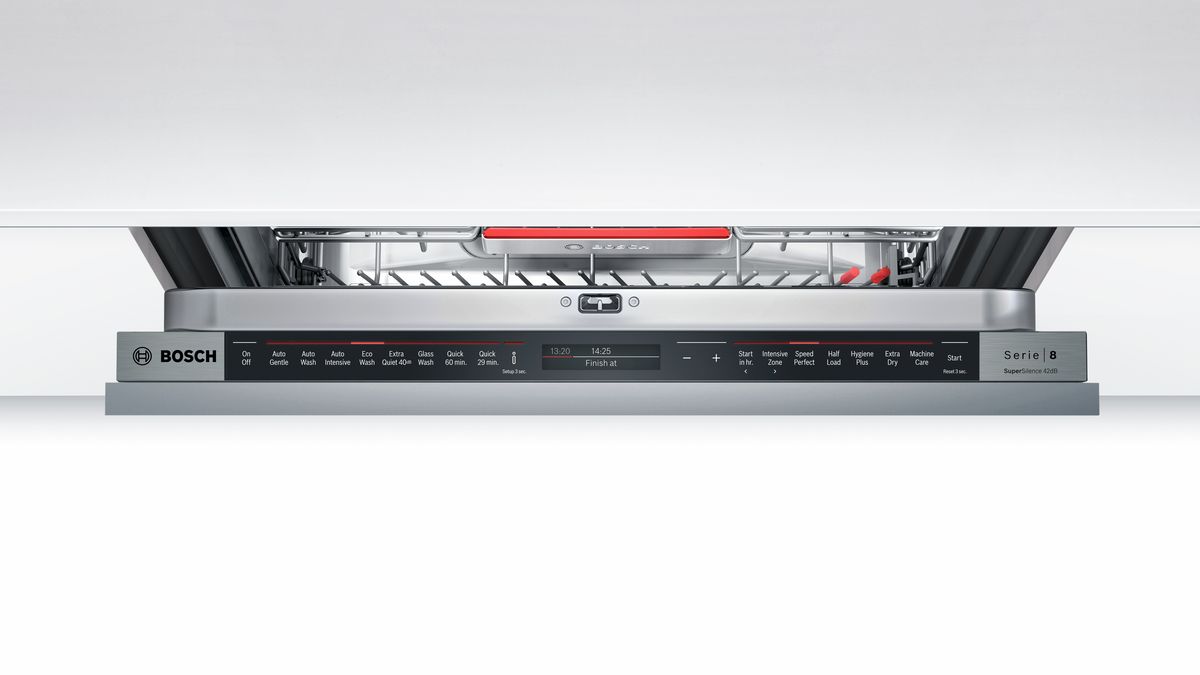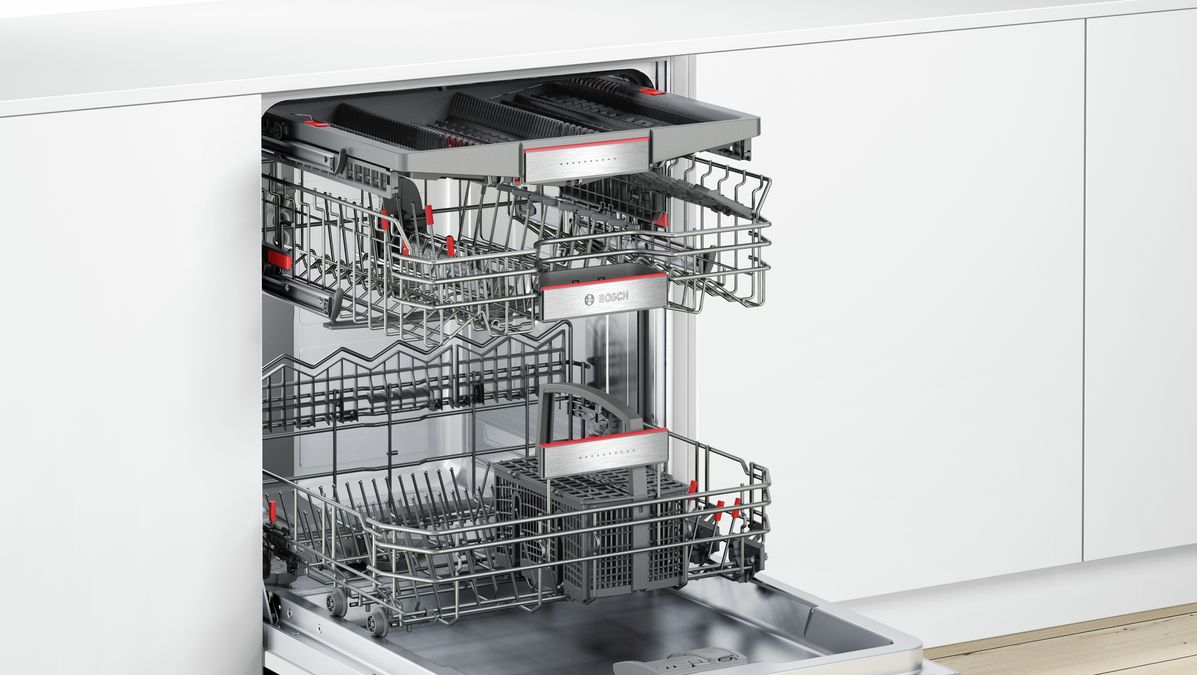 ---
ActiveWater Dishwasher: 15 place setting capacity, full colour TFT display, EmotionLight interior lighting, ultimate flexibility, with brilliant cleaning and drying results.
4.0 star energy & 5.0 star water rating: for very high energy efficiency and particularly low water consumption.
TimeLight: The remaining wash cycle time is projected onto the floor whilst the dishwasher is operating.
Machine Care: Maintains the wash quality and reliability of your dishwasher throughout its lifetime, with indication reminder.
VarioDrawer™ Pro: Provides extra loading flexibility and convenience for cutlery, cups, and large utensils.
Glass Wash System: The Glass Wash program, ExtraDry option and GlassSecure Tray allow optimum cleaning results with high protection especially for delicate long stemmed glasses.
Show less
Highlights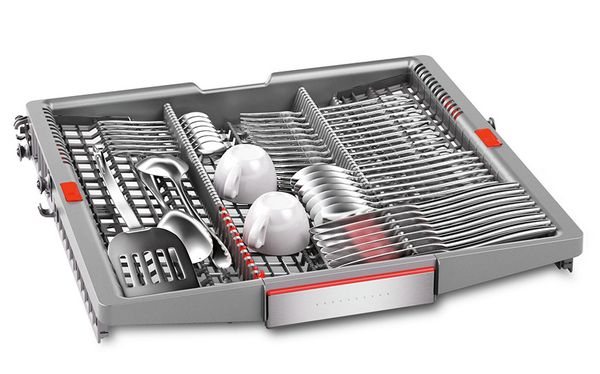 Visibly more flexibility and better use of space
The movable parts are red or grey, depending on the dishwasher model.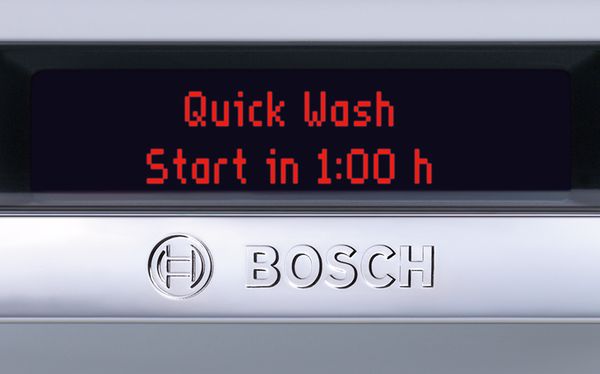 Easy pre-select programme start for the desired start time.
With the time delay function you can pre-select the programme for the desired start time. This allows you to handle your appliance conveniently, at any time during the day, during work hours or at night. After the start of the programme a display indicates the precise remaining time.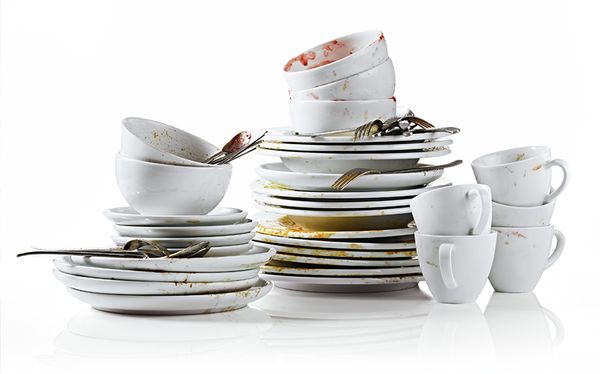 LoadSensor automatically saves water and energy for fewer dishes.
The load weight is detected by a rotary speed sensor which adjusts the water level. The load sensor provides optimal water usage even for half loads or partial loads, saving water and electricity.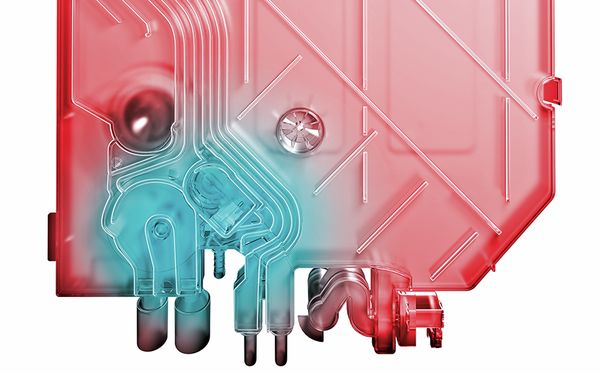 Heat Exchanger: Maximises perfomance and efficiency.
The heat recycling reservoir located in the side panel of the machine maximises the performance by using heat that is generated in each cycle to pre-heat cold water used for the next cycle before it enters the dishwasher. The heat exchanger also works effectively as a residual heat drying system which is extremely energy efficient and a gentle form of drying.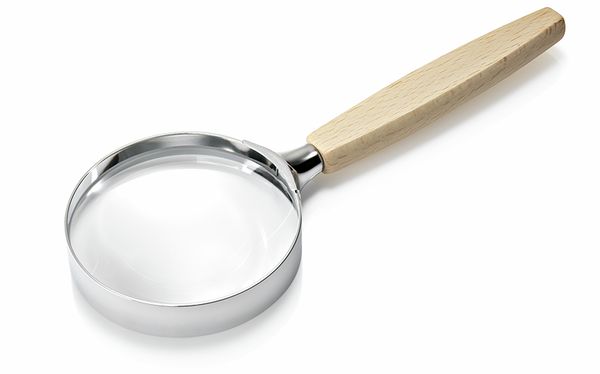 AquaSensor: soil detection for brilliantly clean dishes.
The AquaSensor regulates the water usage depending on the type and degree of soiling, using light beams to manage the rinse. Depending on remaining food particles, grease or detergent residues in the rinse, the rinsing process is assessed to evaluate whether it needs to be continued.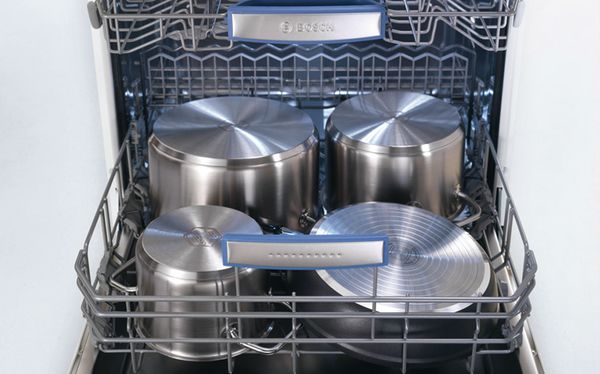 IntensiveZone: effectively cleans pots and pans at the press of a button.
The IntensiveZone option, which can be added to many programmes, ensures a higher spraying pressure and increases the temperature in the lower basket. Heavily soiled pots and pans are cleaned optimally whilst more delicate dishes can be placed in the upper basket. Washes in almost half the time with optimum cleaning and drying results thanks to VarioSpeed.
You can reduce the wash time by almost half with the VarioSpeed option. All this with best cleaning and drying results – as usual.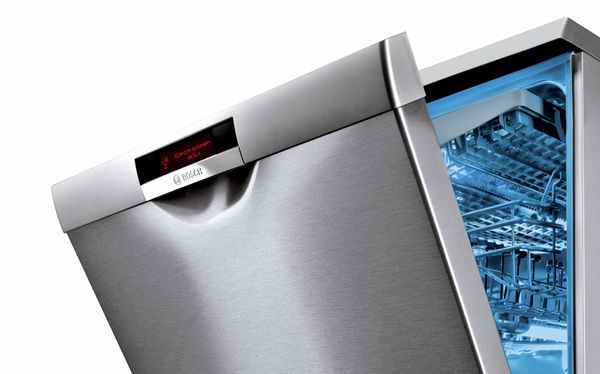 EmotionLight: highest aesthetics thanks to special interior light system.
The innovative EmotionLight system is designed with high aesthetic standards in mind, leaving your dishes even more brilliant. When loading or emptying the dishwater, two powerful LED lights on the door frame immerse the inside in a deep blue light.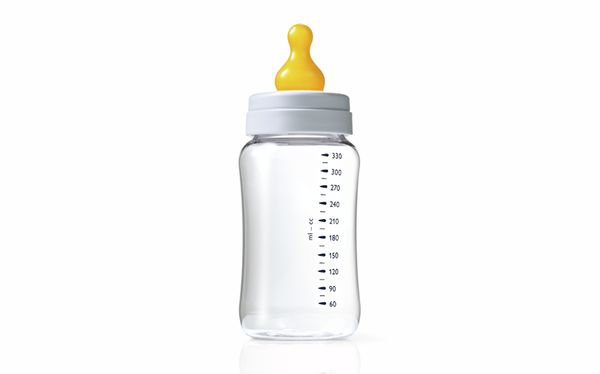 HygienePlus option: Rinsing with higher temperatures for highest hygienic performance.
HygienePlus is a new option that can be activated in many programmes, and guarantees maximum hygiene thanks to antibacterial cleaning. This effect is achieved by a higher temperature level of up to 70°C during rinsing, sustained for approximately 10 minutes. HygienePlus is therefore ideal for people with high hygiene requirements, for instance in households with small children or allergy sufferers.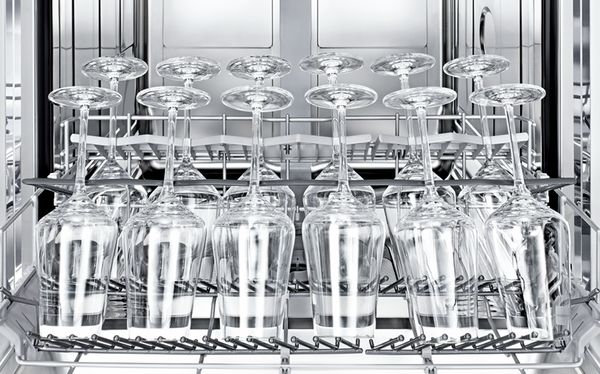 More protection for your glasses with the Glass Rack.
The Glass Rack allows you to safely store extra high glasses, bottles or vases in the lower basket.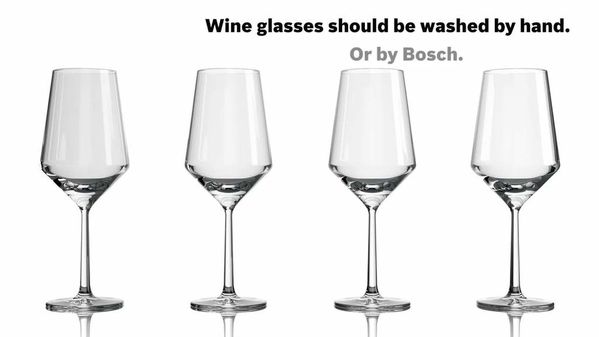 GlassSecure Tray: stable, reliable support with brilliant cleaning results for precious glasses.
This unique tray for long-stemmed glasses has been specially designed for Bosch dishwashers equipped with the VarioFlex, VarioFlex Plus or VarioFlex Pro basket systems. It enables cleaning of long-stemmed wine and champagne glasses brilliantly while holding them securely in place. The glass tray, which accommodates four long-stemmed glasses, can easily be slotted into the lower basket. Simple swivel-catches quickly lock the glasses in place, while the new improved Glass 40° programme ensures superb cleaning results. The new Bosch GlassSecure Tray – recommended by SCHOTT ZWIESEL.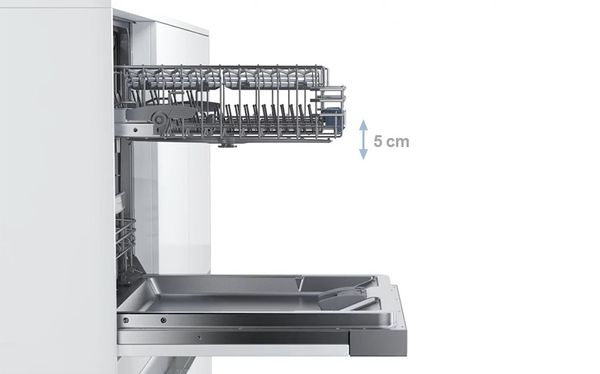 Height-adjustable up to 5 cm at 3 levels even with a fully loaded top basket
Thanks to the triple Rackmatic system, the height of the top basket can easily be adjusted by up to 5 cm. And you can do this when it's fully loaded. That means even more adjustment options and thus maximum flexibility. EcoSilence Drive™: powerful, durable, quiet and efficient.
The brushless, frictionless construction of this advanced motor offers maximum efficiency, economy, durability and performance. Plus, with up to three levels of sound insulation and targeted spray jets, the result is a dishwasher that's even quieter.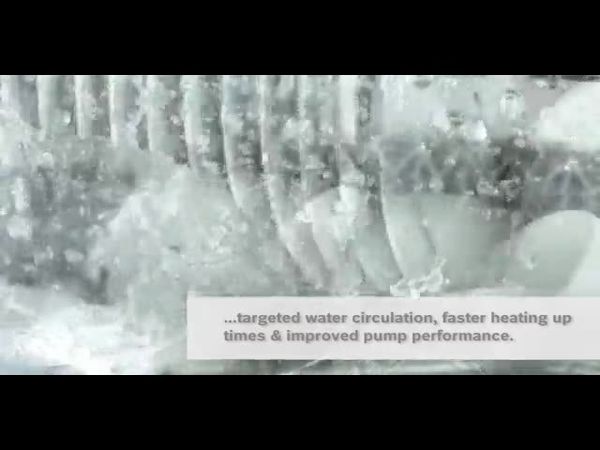 ActiveWater technology: less water, less energy, more performance.
This innovative rinsing technology maximises efficiency and ensures environmentally friendly rinsing for excellent cleaning results. The water and energy is saved through targeted water distribution, optimised filter technology, faster heating and higher pump performance for increased water circulation.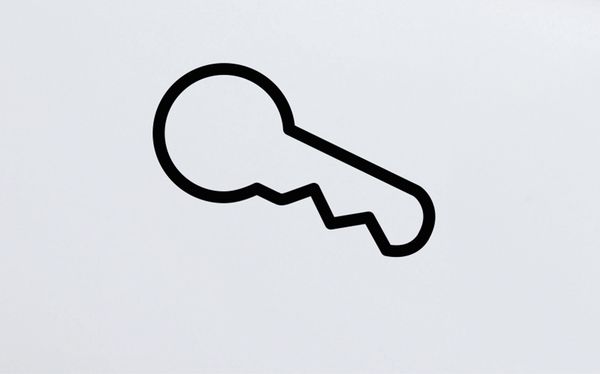 Child lock on door prevents unintended door opening and button tampering.
A child-proof door lock prevents the door from being opened and the programme being altered during the cycle. This prevents injuries caused by hot steam and accidental adjustments to the programme settings.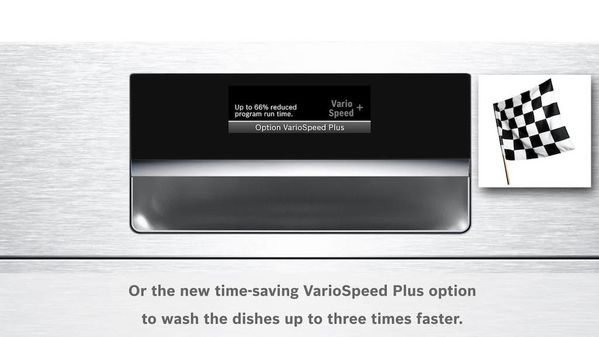 TFT display gives you quick information on dishwashing progress, time remaining and saving water and energy.
The multicoloured TFT display provides information quickly. With pictures and easily legible type, it shows what cycles and options were selected, the dishwashing progress, time remaining, and much more. Handy instructions guide users through cycles and offer useful information on the best use of the dishwasher, and on saving water and energy.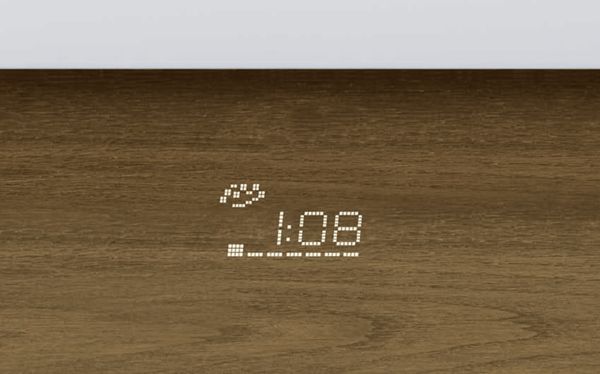 TimeLight: exact remaining time is clearly projected onto the floor.
You might not hear anything coming from your dishwasher, but it still might be on. To prevent you from interrupting the cycle, we've developed TimeLight; an illumination that projects the remaining wash cycle time onto the floor when the dishwasher is in operation.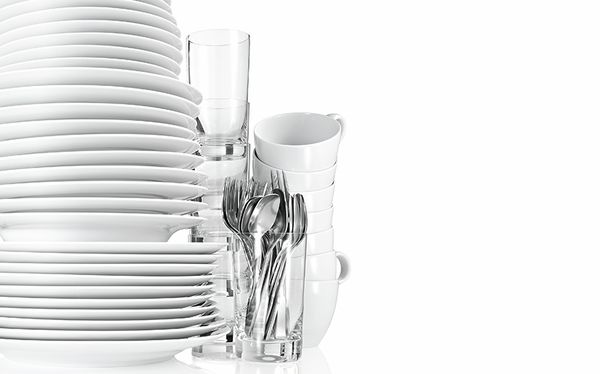 Automatic programmes ensure the best cleaning performance, automatically.
Water usage, water temperature and rinse time are adjusted exactly to suit the level of soiling. This provides best results while saving water and energy.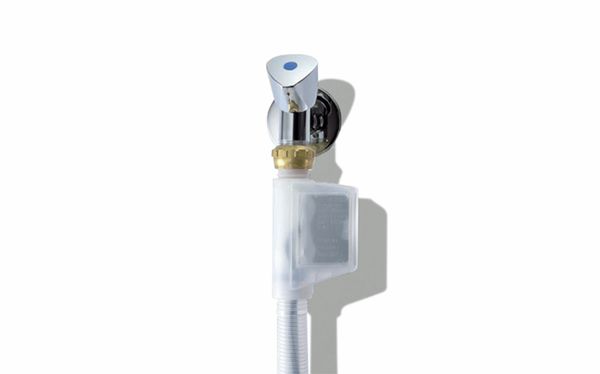 AquaStop for added security and safety against water damage.
The AquaStop system cuts off the water supply directly at the tap outlet in the case of leaks. AquaStop operates 24 hours a day, 7 days a week, provided the dishwasher is switched on at the mains.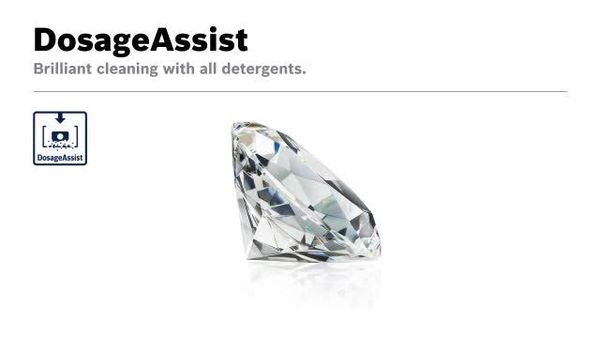 DosageAssist ensures optimum results thanks to effective dissolving of detergent tablets.
The DosageAssist ensures optimal cleaning results and a quieter wash. The detergent drops out the detergent dispenser and into a special tray on the top basket where it gets completely dissolved.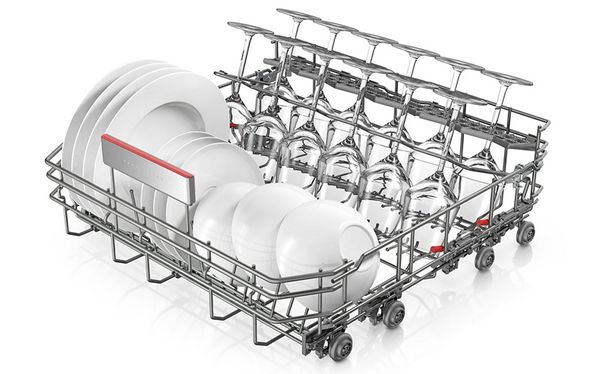 Whichever way you look at it, you can get more in now.
The innovative VarioFlex Pro basket system offers a wide range of adjustment options. Thanks to the red touchpoints and Rackmatic lever, you can always see immediately where and how you can adjust the baskets flexibly to the dishes to be loaded. In this way, more dishes become dazzlingly clean - in just one wash.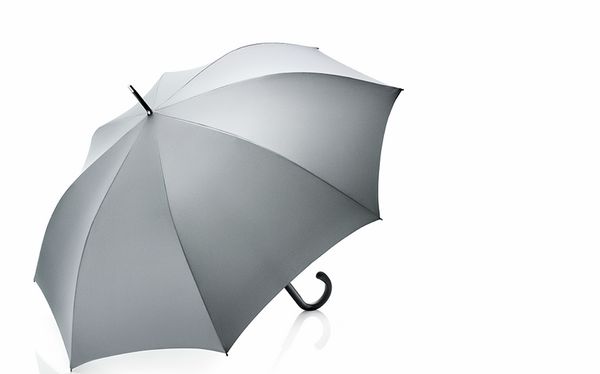 Our quality guarantee: 10-year rust through warranty against interior rusting.
We have developed special surface treatments and production processes that are precisely tailored to the materials used in the interior of our dishwashers. We also use high-quality sheets of stainless steel. As a result, we are able to offer a 10-year warranty against interior rust-through on all our dishwashers as standard.
Additional Appliance Information
Dimensional Drawings